Now that the dust has settled and the some of the torn hands have healed, I figured it is a good time to do a 'round up' post of a lot of the coaching that went into the CrossFit Open this year. If you guys were following along week to week, none of the below stuff will be new (other than a few comments here at the top).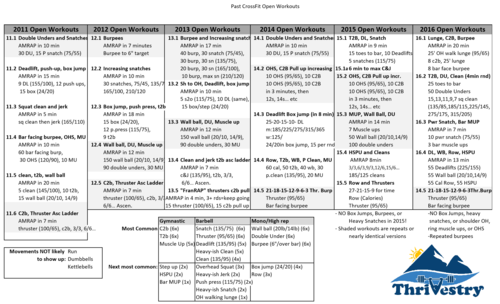 (Summary of the Open Workouts above)
As in previous years, I'll be programming throughout the year for we've found is best for long term retention, coach-ability, relationship building, safety, and results. Generally speaking the gym programming isn't focused on the Open until a few months before (when there is a slight shift).
That said, at this time I do not plan on trying to fit the Open programming into the daily workouts. The feedback I have gotten from most of you is that you do don't have a majority of people doing the Open, and that doing the workouts in a 'Friday Night Lights' style of competition heats is the way you do them - So there is no need to have the programming try and fit the Open specifically (especially since these people are usually 'resting up' before their Open attempt anyway).
Things could change, but I believe that getting the programming to you weeks in advance is better for you guys and gals more than trying to fit in the Open for the small percentage of clients that are doing it.
To be clear, I'll still be doing videos and write ups on how to have your best showing in the Open! I just won't be doing the week to week programming like we have done the last few years.
And for anyone not on the programming yet, It is never too early to start! Let us free up your time, give you great tools and resources, make your clients awesome, and make your coaches into heroes!
Thrive on.
-jj


16.1
16.1 Has been announced!
To be clear, we will be following "Track A" (aka "Plan A"). I am glad that worked out so well!
Here are some initial thoughts on this one:
Good luck and have fun!
-jj
Overall:
Pacing will be extremely important on this one. Do not let yourself come out super hot on the first round or two and then spending additional time with your hands on your hips on the later rounds. "Aggressive" pacing for most people would be anything faster than 2 min per round. That said, do not 'move slow' on the lunges. You are better off trying to hustle these because longer each 'set' takes, the longer you are under tension and burning oxygen and energy. Move fast and drop often if you have to (it is better than grinding it out).
Wear some sort of knee protection so that you can come down fast without wrecking your knees. Make sure you do a good amount of shoulder mobility so that you can go with a more narrow grip and use more skeletal support vs muscular. Mobile shoulders will be rewarded on this one. The lunges will be the deciding factor for most. Many people shouldn't try and do the pull ups unbroken or in big sets just because they are going to need a bit more rest between the lunges anyway. Do singles and small sets (letting go at the top to save the grip and arms) so you can go a bit faster on the lunges.
Similarly on the burpees, flying through these will only make you have to slow down and break up the lunges more. Use the pace here to moderate the overall intensity of the lunges. Avoid stepping up and mimicking the lunge movement because so much of the same muscles are being used for the actual lunges. As you pass the 16-17 mark, try to speed up on the c2b and burpees if you can. Do your best to end partway through a movement's reps versus on the transition where there is generally a lot of ties.
Competitors:
This straight forward of a workout doesn't change much for people looking to qualify for Regionals (Indy or Masters). You may be able to make up a bit of ground on the pull ups and burpees, but if you find yourself (or your athlete) stalling before the next round of lunges, they are probably going too fast on the other stuff. It may help to think of this more as lungs right into the 4 c2b, rest, 4 c2b right into the lunges right into the burpees, slow-ish burpees, then right into the lunges, etc.
Keep your eyes on the long game here as well. Repeating this workout will probably not help you much in the standings (unless you really messed up), but it will make you unduly sore and possibly damage your hands. Do this one right the first time and start thinking about what is coming down the pipe next! (See attachment)
The attachment is all of the Open workouts to date with the workouts crossed out that had burpees and chest to bars. At the bottom I updated the appearance frequency (and crossed out there as well). You can use this list to focus on any weaknesses that WILL show up for you!
PS for Owners:
Obviously it will be safest if your athletes all have their own 8' wide lane.
BUT! If you set up so that everyone always lunges the same direction (perpendicular to the burpee and pull up stations) and you have helpers roll the bars back to the start, you can get away with much more narrow lanes.
Yes the bars will overlap and people can't be out of their minds.
No, this isn't great if people are going to get more than 8 rounds or so (possibly too much walking around).
Yes you should have additional bars just for the burpees...
It should work, check out the picture attached (I drew on my son's tablet on my way to a fundraiser dinner).
Good luck and celebrate with a margarita afterward (you will have earned it).
-jj
16.2
Nailed it again this week!
We'll be following 'Plan A' (which assumed squatting, toes to bar, and double unders). That means that Saturday's alternate workout will be "Basket Case" (the one with the double unders, front squats, toes to bar and HSPU), Monday will be Deadlifts, "Trusty Mosin Nagant", and Thursday will have "Red Raptor".
Here is a snapshot of the whiteboard I am talking about: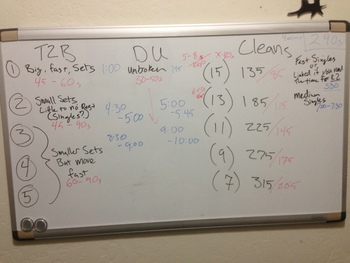 Good luck and have fun!
-jj
16.3
A fun little 7 minute AMRAP! And so simple to set up in the gym!
Watch the video for full details, but I will hit some of the high points here.
Snatches
Using a slightly closer grip will save the grip strength on this one as well as keep people from bending over as far (which will add up over time). Make sure to use a good hip 'pop; to get the bar overhead and try not to do too much pressing out. That press out could be costly for the muscle ups in later rounds.
Go for big sets here unless you really need a long rest between sets of bar muscle ups. If you can't walk straight from a set of snatches and go right into your first bar muscle up, you may need to break up the snatches up more. Consider dropping at 5 snatches, getting chalk, then doing 5 snatches and hitting the bar MUPs right away. Another way may be 4, 3, 3, then right into the MUPs.
Focus on efficiency for most of the reps. Being sloppy early on will cost dearly in the later rounds. That said, on the last reps/round, don't be afraid to 'win ugly' and just get it done.
Bar Muscle Ups
Watch the video for more tips on technique, but the key here is really use the hips and hollow position to get way over the bar and avoid pressing out at the top. This is more of a 'glide inspired' version that is CrossFit legal as long as you keep the HEELS below the plane of the bar. Make sure the judges know that if the toes break the plane the athlete is still good. Bending the knees slightly will help keep the feet low and prevent no reps.
You can really see Shawn's high hip and bent knee technique here: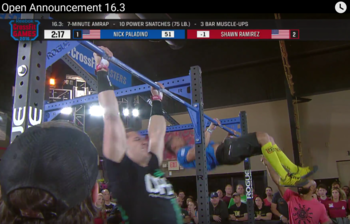 'Chicken wings' should really be avoided here. They are extremely dangerous for your shoulders (especially under fatigue) and can tear some very important structures. Ones that will need surgery to be fixed. If an athlete is doing chicken wings, it is most likely because they aren't getting their hips high enough before the transition, and they aren't using a good rigid hollow body to let the weight of their legs push their head and shoulders over the bar.
Here is a decent video on the 'Glide Kip' (THAT WOULD NOT BE LEGAL IN CROSSFIT), but it is still a decent video explaining the mechanics and timing: https://youtu.be/6Md3KrO6IzE
This is an example of not utilizing the legs enough (they need to be higher): https://www.youtube.com/wat...
Play around with the glide kip style and video yourself (as well has have people judge you). Get those legs high and you will 'float' up there!
Pacing
End of Round time:

Rounds

Reps

Sec per Rep

Sec per Rnd

Rnd 2

Rnd 3

Rnd 4

Rnd 5

Rnd 6

Rnd 7

Rnd 8

Rnd 9

13

169

2.5

32.3

01:04.6

01:36.9

02:09.2

02:41.5

03:13.8

03:46.1

04:18.4

04:50.7

12

156

2.7

35.0

1:10

1:45

2:20

2:55

3:30

4:05

4:40

5:15

11

143

2.9

38.2

01:16.4

01:54.6

02:32.8

03:11.0

03:49.2

04:27.4

05:05.6

05:43.8

10

130

3.2

42.0

01:24.0

02:06.0

02:48.0

03:30.0

04:12.0

04:54.0

05:36.0

06:18.0

9

117

3.6

46.7

01:33.3

02:19.9

03:06.5

03:53.1

04:39.7

05:26.3

06:12.9

06:59.5

8

104

4.0

52.5

01:45.0

02:37.5

03:30.0

04:22.5

05:15.0

06:07.5

07:00.0

7

91

4.6

60.0

02:00.0

03:00.0

04:00.0

05:00.0

06:00.0

07:00.0

6

78

5.4

70.0

02:20.0

03:30.0

04:40.0

05:50.0

07:00.0

5

65

6.5

84.0

02:48.0

04:12.0

05:36.0

07:00.0

4

52

8.1

105.0

03:30.0

05:15.0

07:00.0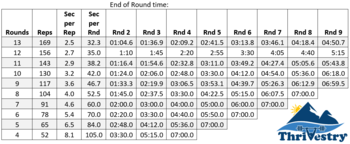 Having a good target will help you pace correctly. Use the chart above to help decide what pace per round to use.
Generally, it isn't terrible if your first round is a bit faster than your target. But if you are way ahead of schedule after your second round, you either sold yourself short on your target (not likely), or you are going too fast and you'll probably crash and burn.
As counter-intuitive as it is, coming out hot in the beginning because "I always get tired no matter what so I had better go fast early on" is NOT the winning strategy. Keeping a consistent pace and then speeding up toward the end (if you can) is going to be the winner.
Good luck and have fun!
-jj
16.4
16.4: The chipper many of us were waiting for.
I am pretty thrilled about this one as I love to program combinations like deadlifts and wall balls, rowing and handstand push-ups, deadlifts and HSPU, etc. Probably the movement most likely to hurt the most people is the deadlift, and we get it out of the way early on. Handstand push-ups can be dicey too, but for people who aren't good at the other movements, they won't have much time to huge amounts and risk neck injury.
Watch the (somewhat lengthy) videos for movement breakdowns and pacing info, but here is the gist:
Deadlifts (1:30-3:00 for most people, about 10 reps every 15-30 seconds average)
Keep the sets relatively small with minimal rest. Dropping from the top will save a bit of energy and spread out the wallop to body. Used a mixed grip and be sure to keep the bar close to the body. If the bar drifts away from the legs on the pull, slow down and engage the lats. Wear flat soled shoes (or go shoeless) so you have less distance to pull the bar. Don't wear Oly shoes!
Wall Ball (1:30-3:00 for most people, about 10 reps every 15-30 seconds average)
Start with a set that isn't too huge. 5, 10, 15… whatever is 'small' for you. BUT don't waste time from the deadlifts and that first set get to the target and start. After a set or two you should be able to determine how big you can go. Try and finish with some bigger sets.
Don't forget to catch the bottom of the ball and to flip the fingers and the wrists every rep. It requires much less shoulder drive (many can hit the target without full arm extension this way), and this will pay off for the HSPU later.
Row (3:00-5:00 for most people, about 10 calories every 30-50s)
The faster you row, the less the amount of meters you have to actually go. It is like running a race where the finish line is slowly moving away. This type of effort rewards people for going a bit faster since they will have less total distance to travel. That said, push the pace a bit on the row. Be careful to avoid destroying yourself, but keep in mind that the tie breaker is after the row so a 5-10 sec faster time could pay off (even if you have to rest those seconds and more before your first HSPU).
Handstand Push-Ups (2:30-5:00 for most people, about 10 reps every 20-50s)
From someone who had a couple hundred people do last year's Open at his gym... and the wall damage to prove it:
Use painter's tape! The wider the better (not just the typical 1" stuff if you can get it). Duct tape will pull the paint off of any painted walls, or leave sticky grey glue.
I am a fan of making the bottom of the tape the boarder. Most people (who know how to kip properly) do not drag their heals up on the way up for the majority of their reps. They drag them down the wall on the way down.
Putting the tape below the boarder means that the top of the tape will be dragged down and the judge will have to fix it (or make a judgement call). Using the bottom border of the tape means that if the top of the tape gets messed up, it won't make the judge's job harder!
Okay actual Handstand Push-Up Tips…
Practice hand placement beforehand, and mark the floor if possible. The old style of doing these with the hands away from the wall with as wide-of-hands-as-allowed is only going to mess you up. Keeping the hands closer together and closer to the wall will ensure that you aren't selling yourself 'short' (so to speak).
The key to the kipping handstand push up is always using the most leg drive as possible. Think of it like a really heavy thruster. Tons of leg drive and hip pop… then the arms don't push until the lower body has given all it has. Think about kicking a hole in the ceiling (with the heel being the highest point of the body, not the toe).
Taking the time to dorsiflex the foot at the top of each rep should avoid no reps. Having a neutral or (worse) pointed toe will mean that the correct amount of work will not get credit. For some, the coaching cue "push your calves to the wall and heels to the ceiling" helps.
A little known tip is to take some time to mobilize your wrists before HSPU. The extreme hand position causes the rest of the tissues to bind up at full extension and make lockout that much harder. Some extra wrist range of motion will mean a lot more efficiency, especially at higher reps.
Pacing
The video got cut off at the very end. The only other thing I was going to add was that the faster athletes should be able to finish these in the 3 min minute range. Doing that will mean they have 4 minutes to go into the next round. Very few people will make this happen, but we should see some make it back to the wall balls even!
Final Thoughts
Have fun and spend the time to make sure you have spent the time to get your kipping handstand push-ups dialed in (placement and technique wise)! If possible, set it up with your judge so they can give you a warning when you are getting close to no-repping.
Thrive on (and only one more week after this)!
-jj
16.5
Talk about coming out of left field!
This is definitely a year they squeezed more 'firsts' than most expected. First time lunging. First time doing bar muscle ups… now first time doing a repeat movement! It just goes to show that there will be many more years where they keep us guessing during the Open. The only thing you can do is be the most prepared as possible before it starts!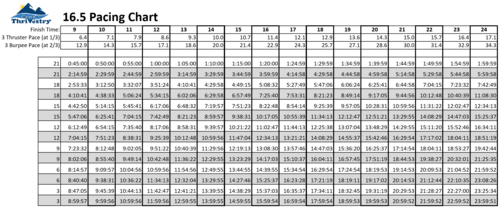 16.5/14.5 has a lot to do with efficiency and pacing. The temptation to do big sets of thrusters early on generally kills you twice: once because you are much less efficient in later rounds, and twice because you can't recover and move quickly on the burpees and in later rounds.
PT 1 Video: https://youtu.be/0OxatpF2Lhw
PT 2 Video: https://youtu.be/UQ5W6x9mxoE
Pacing
Look at the chart for and the Beyond the Whiteboard data for pacing guidance. Each column is a finish time to use as a reference. I am okay with people going a bit faster than their 'target' time (maybe one or two columns to the left), but if you find yourself aiming for a 15 min finish and you are going at a 10 min pace. You will crash and burn.
Sidenote: EVERYONE thinks that "I always run out of gas at the beginning so I had better go fast before I get tired!" This is a MYTH. Coming out a bit faster than your planned finish pace isn't the biggest mistake, but thinking that you will be able to do one half of the reps (the 21s and the 18s) in 3-6 minutes, then settle into a pace to finish in 10 -13 minutes isn't going to work. Half of the reps is half of the reps. Being conservative and dropping that bar a couple times in the first rounds will pay off in the form of faster burpees and more unbroken thrusters in later sets.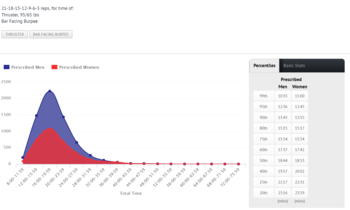 The pacing chart is set up so that it shows the average pace for 3 reps at each finish time. This is going on the rough estimation that you should do the thrusters about twice as fast as your burpees. If you can't seem to get the burpees done in this amount of time, it is probably because you are doing the thrusters too fast!
Using this ratio, the times listed are approximately where you should be finishing each checkpoint. There will be a lot of variance here between athletes (especially after the first 5 minutes of the workout), but the main take-away is to use the numbers for the first couple rounds to make sure you aren't ruining your performance with an unrealistic pace out of the gate.
Thrusters
Some people will actually do better holding onto the bar in their hands rather than using a front rack for the thrusters. This will depend on how strong you are with the thruster and your flexibility. Keeping the bar in your hands with low elbows will be faster as long as you are strong enough to hold it. Just don't hit your elbow on your knees!
Short pauses at the top, rack or bottom are fine, but if you are going to pause longer than a breath or two, drop it. Dropping the bar a few times in the first rounds will meter out the intensity significantly more than holding on and grinding out big sets. Yes you do have to do extra work picking the bar up, but picking it up an extra 4-7 times in a workout this long will pay off in movement efficiency and by being able to go faster on the burpees. Just make sure you don't stare at the bar after you drop it! Have a plan to watch the clock and pick it back up after a set interval.
Burpees
Save the shoulders if you can! Using your arms as little as possible will make the thrusters easier. Really fast burpees tend to blow the shoulders up, but you can do burpees with little to no arm involvement (even if they look mighty silly).
Wide feet is fine on the way down, and most people should be doing a step up to get close to the bar before jumping. Think about erasing extra movement on the burpees. The more steps it takes you to get down, then get back up, the more energy you are going to waste and the longer it is going to take. Get the rep done, pause, get the next rep done. Don't slowly work your way through 13 step burpees that take you 10 seconds or more. Similar to the thrusters, the slower you are getting down, the more energy you are wasting as you are under tension.
Closing Thoughts
As the Open comes to a close it is time to celebrate with the people who decided to throw their hats into the ring. The true heroes of your gym should be the every-day gym people who stepped up and made themselves vulnerable to anything that CrossFit may come up with. It isn't easy to put yourself out there and possibly be embarrassed, exposed, or even injured, in front of a community of people whose opinions you value. It isn't easy to add the stress of 5 weeks of waiting for workout announcements, leaderboarding, and lack of sleep, on top of what they have going on with the rest of their lives.
Remind everyone of the high points and the progress. Tell the inspiring stories and laugh about the silly situations. The relief of the end of this year should be palatable, but the more positive you can make it, the more likely people will want to start training for next year soon.
-jj